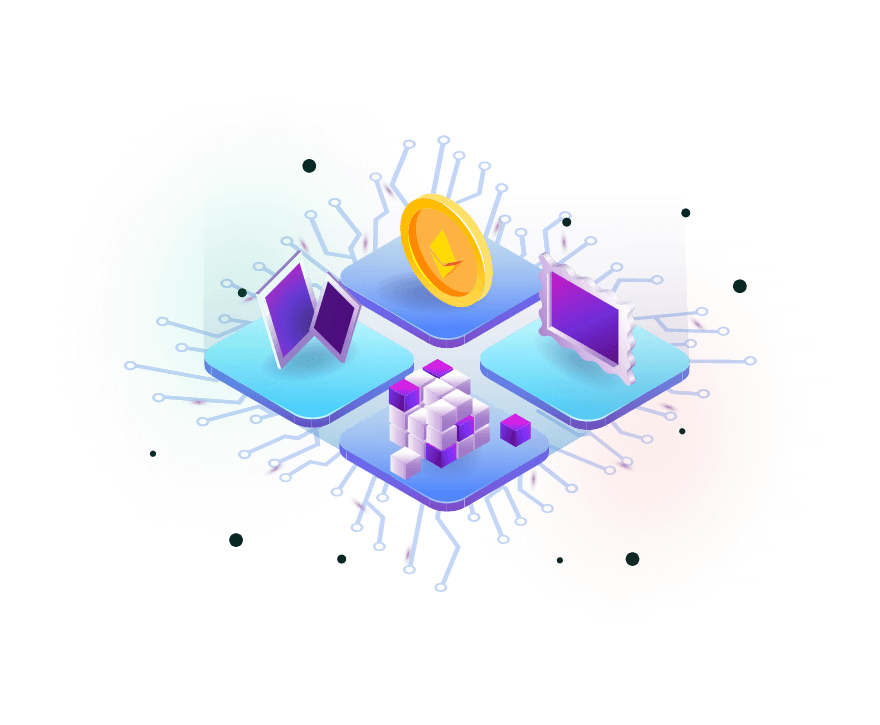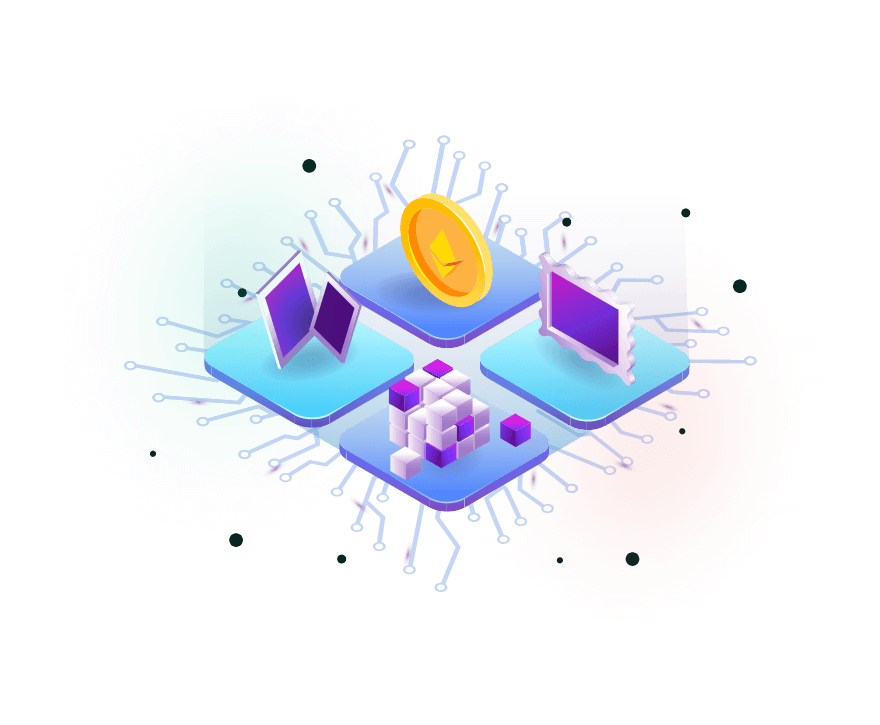 NFT Marketplace Development Services Company
Our NFT marketplace development services allow businesses to launch their own feature rich NFT marketplace that attracts your target audience and enables creators, sports clubs, artists, entrepreneurs, and users to create, list, buy, and sell NFTs under one roof.
Our NFT Marketplace Development Services
Step into the future of digital ownership with BloxBytes NFT marketplace development services. Our NFT marketplace
development solutions empower you to build a feature-rich marketplace where creators and collectors connect, creating
a new paradigm for digital assets.
Experience a seamless NFT development process with BloxBytes. Our team of NFT developers will guide you from ideation to minting, ensuring your NFTs stand out in the ever-expanding digital marketplace.
Our expert smart contract developers ensure the flawless execution of NFT transactions. We build and audit smart contracts, ensuring top-notch security and reliability for your NFT marketplace, and protecting your digital assets and investments.
NFT Marketplace Design
& Development
Shine your NFT marketplace with our NFT Marketplace design and development services. We create user-centric interfaces and seamless functionalities, delivering an engaging NFT marketplace platform that attracts both creators and collectors.
NFT Marketplace Maintenance
& Support
Our expert smart contract developers ensure the flawless execution of NFT transactions. We build and audit smart contracts, ensuring top-notch security and reliability for your NFT marketplace, and protecting your digital assets and investments.
Fundamental Features of NFT
Marketplace Platform Development
Our NFT marketplace development services offer a comprehensive range of cutting-edge features that elevate the user experience, facilitate secure transactions, and drive engagement. From intuitive interfaces to seamless NFT minting, our platforms are designed to create a vibrant ecosystem for creators, collectors, and investors alike.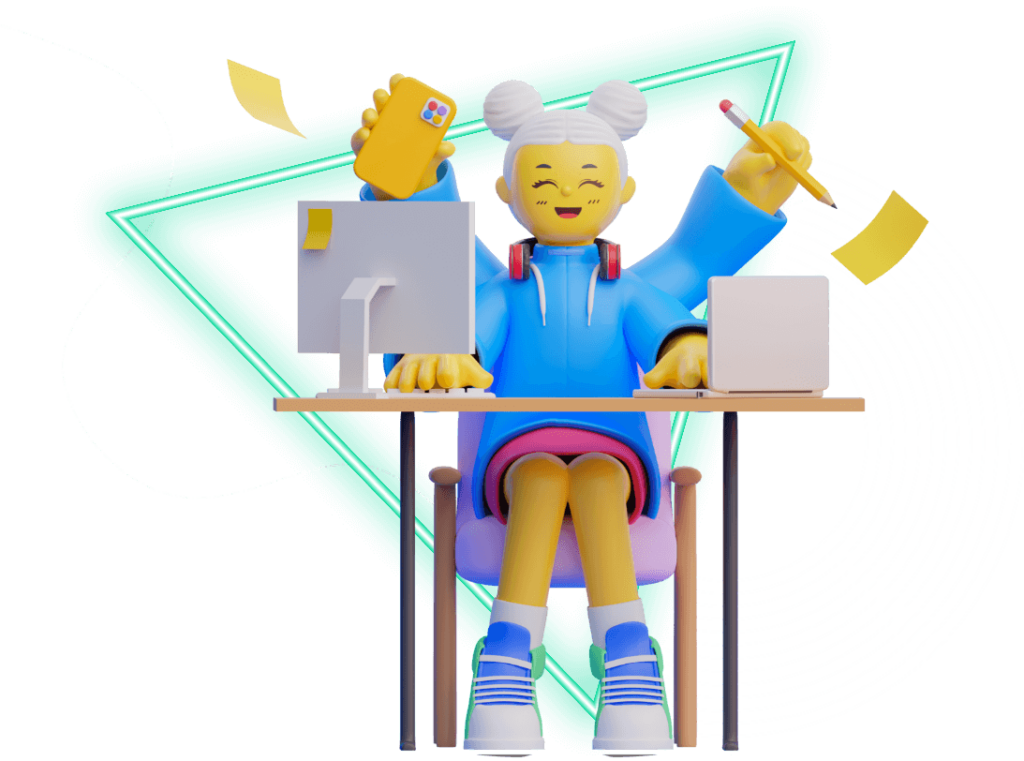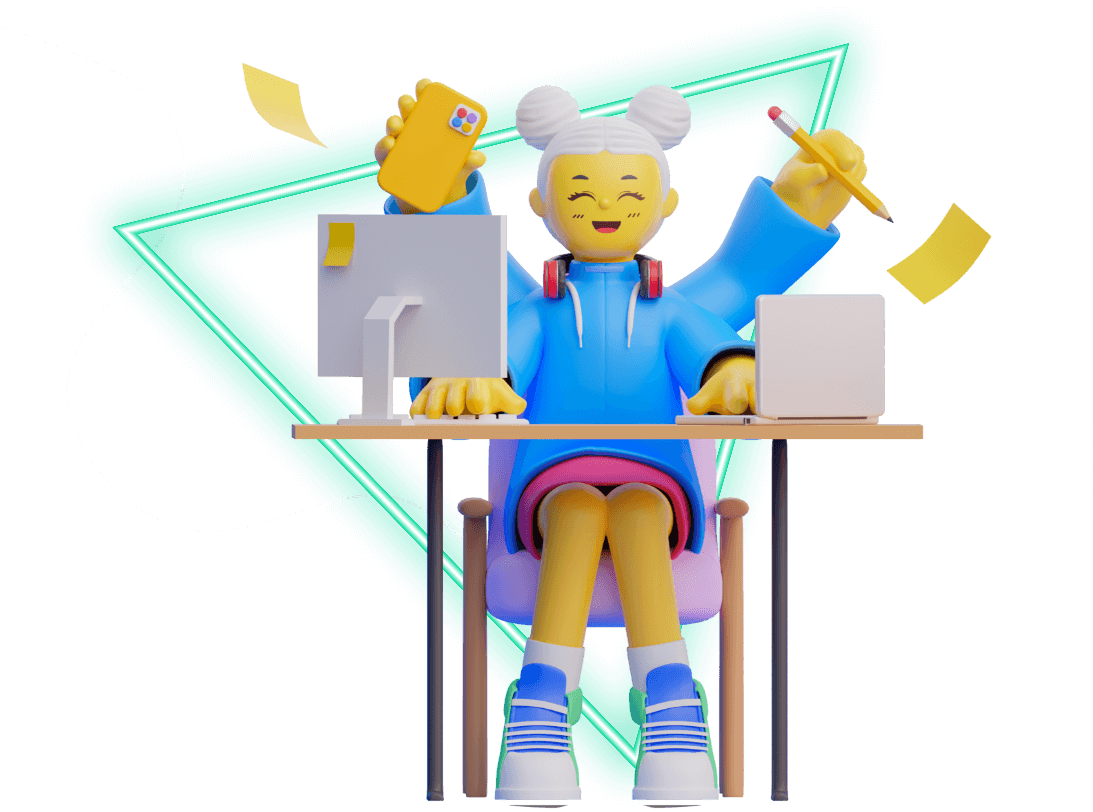 User-Friendly Interface
Our NFT marketplaces boast intuitive interfaces that ensure a seamless experience for creators, collectors, and investors. With clear layouts and straightforward navigation, engagement is elevated, driving adoption and user satisfaction.
Multi-Chain Compatibility
Embrace a broader audience with multichain compatibility. Our NFT marketplaces facilitate transactions on various blockchain networks like Ethereum, Binance Smart Chain, and more, allowing users to access a diverse range of digital assets.
Secure Transactions
Security is always our priority. Our NFT marketplaces integrate smart contracts to ensure transparent and secure transactions, providing users with confidence in buying, selling, & trading NFTs.
Robust Search & Filtering
Explore an extensive collection of NFTs effortlessly. Our marketplaces offer robust search and filtering options, allowing collectors to discover the perfect digital assets that match their interests.
Scalability & Performance
Built for growth, our NFT marketplaces are designed to handle increased user activity with ease. We optimize performance to deliver a smooth experience even during peak traffic periods.
Wallet Integration
Seamlessly integrate crypto wallets, enabling users to store, manage, and trade NFTs with ease. Our wallet integration services ensure a secure & frictionless experience for all marketplace participants.
Customizable Auctions
and Bidding
Drive engagement with the flexible auction and bidding systems. Tailor your NFT marketplace to support various auction types, enhancing user participation and driving competitive bidding.
Community & Social
Features
Encourage interaction and foster a vibrant community. Our NFT marketplaces integrate social sharing, commenting, and networking functionalities, creating a dynamic NFT ecosystem.
Our Top-Notch NFT Marketplace
Development Solutions
At BloxBytes, our NFT marketplace development solutions empower businesses to lead in the dynamic world of digital
assets. We craft custom NFT marketplaces with cutting-edge features, seamless user experiences, and robust security
measures. Our expert team delivers end-to-end solutions, from ideation to deployment, ensuring your NFT marketplace
thrives in the ever-evolving blockchain landscape.
Multichain NFT Marketplace Development
Explore new horizons with our Multichain NFT Marketplace Development. Our NFT development expert builds decentralized marketplaces that seamlessly integrate with multiple blockchain networks, enabling cross-chain NFT trading and empowering users with a diverse range of assets. Empower your users with a truly inclusive and interconnected NFT marketplace experience.
NFT Marketplace Development Services
Step into the world of NFTs with our NFT Marketplace Development services. We build fully customizable and scalable marketplaces that enable seamless buying, selling, and trading of digital assets. From intuitive user interfaces to robust back-end functionality, we create immersive marketplaces that drive engagement and foster a thriving NFT community.
NFT Gaming
We help you leverage the unique benefits of NFTs to revolutionize the gaming industry. Level up your gaming experience with our NFT Gaming solutions. We specialize in developing blockchain-based games that integrate NFTs, allowing players to own, trade, and monetize in-game assets. Explore new realms of creativity, ownership, and economic opportunities in the evolving landscape of NFT Gaming.
NFT Minting
Platform
Tokenize your creativity with our NFT Minting Platform. We offer robust and customizable platforms that allow you to easily mint and showcase your unique digital assets as NFTs. From artwork to music, collectibles to virtual real estate, our minting platform provides the tools and infrastructure to tokenize and monetize your digital creations.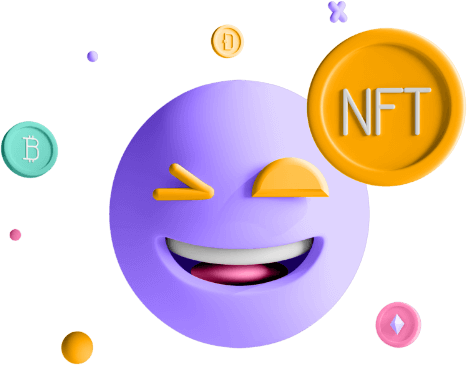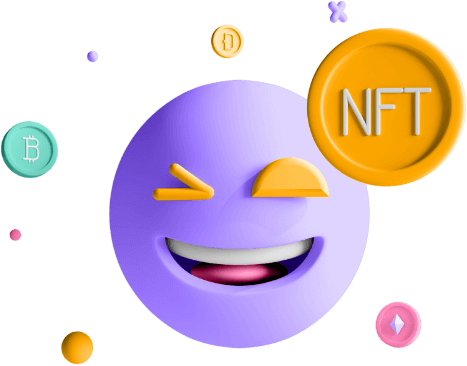 NFT Smart Contract Development
Elevate your NFT project with our NFT smart contract development services. Our team of skilled NFT developers designs and deploys secure and reliable smart contracts that enable seamless NFT functionality, including minting, transfer, and marketplace operations. Trust in our expertise to bring your NFT vision to life with cutting-edge smart contract solutions.
NFT Staking Platform
Maximize the value of your NFT collections with our NFT Staking Platform. We design and develop platforms that allow NFT holders to stake their assets and earn passive income. By leveraging the power of blockchain technology, we create secure and transparent staking solutions that provide an additional layer of utility and profitability for your NFTs.
NFT LaunchPad
Ignite your NFT journey with our NFT Launchpad solutions. We offer end-to-end support in launching your NFT collection, from smart contract development to community building and marketing campaigns. With our expertise, you can confidently introduce your NFT project to the world and attract a dedicated audience of collectors and enthusiasts.
NFT LendingPlatform
Unlock liquidity for your NFTs with our NFT Lending Platform. We provide a secure and transparent platform that allows NFT holders to leverage their digital assets as collateral and access loans. Whether you need short-term liquidity or want to explore new investment opportunities, our NFT lending platform provides a convenient and secure solution.
Our NFT Marketplace Development Process
Experience a seamless journey to NFT success with BloxBytes' meticulous marketplace development process. From ideation to implementation, we leave no stone unturned to bring your NFT marketplace to life.
01 Requirement Gathering
Our team of NFT Marketplace developer comprehensively understands your business objectives and NFT marketplace goals to align our marketplace solutions with your vision.
02 Create a Concept & Strategy
We craft a well-defined concept and strategic roadmap for NFT Marketplace development, outlining every milestone, technology stack, and design element.
03 Marketplace Design & Development
With innovative team of NFT marketplace designer and developer, we build a captivating & feature rich NFT marketplace that captures attention and drives engagement.
04 Quality Assurance
Quality is at the core of our NFT marketplace development process. We implement rigorous testing and conduct meticulous quality checks to ensure your platform surpasses industry standards and delivers a flawless user experience.
05 Marketplace Launch
We understand the significance of a successful NFT marketplace launch. Our seasoned experts work diligently to orchestrate a seamless and impactful launch, ensuring your NFTs are ready to be discovered and traded by enthusiastic users.
06 Ongoing Support
Even after launch, our dedicated team offers continuous support and updates to enhance your NFT marketplace's performance and user satisfaction.
Embrace the future of digital assets and open the door to new opportunities with our expert NFT marketplace developers. Whether you're an artist, musician, or entrepreneur, we'll work hand-in-hand with you to turn your vision into a reality.
Hire NFT Developer

User interface

Logic

Application integration

React

Python

Solidity

Rust

Node.Js

.Net

C++

Java

Muitisignature

Event Manager

Connectors

Oracle

Trackers

Wallets

Application Server

Distributed Files stores

Smart Contracts

Distributed Databases

Digital assets

Digital Identity

Permissionless

Bitcoin UTXO

Link

Proof of stake

Gossip

Proof of work

Permissioned

Ethereal virtual Machine

Side chains

Byzantine fault Tolerant

Compute

Storage

Network

Virtualisation

Mining as a services
Why BloxBytes is the Right NFT Marketplace Development Company for Your Needs?
Choosing the right NFT marketplace development company can make all the difference in the success of your project. At BloxBytes, we take pride in being the top choice for businesses and individuals seeking to create cutting-edge NFT marketplaces. Here's why: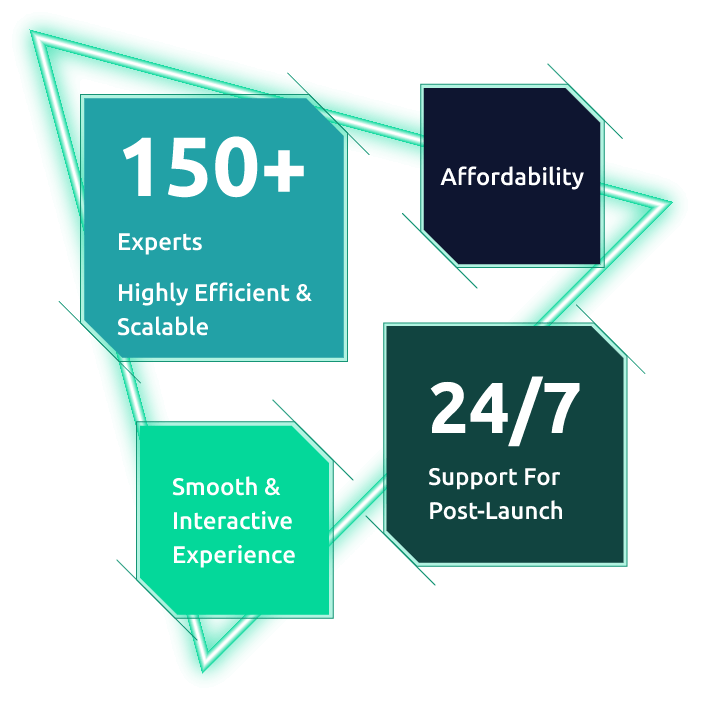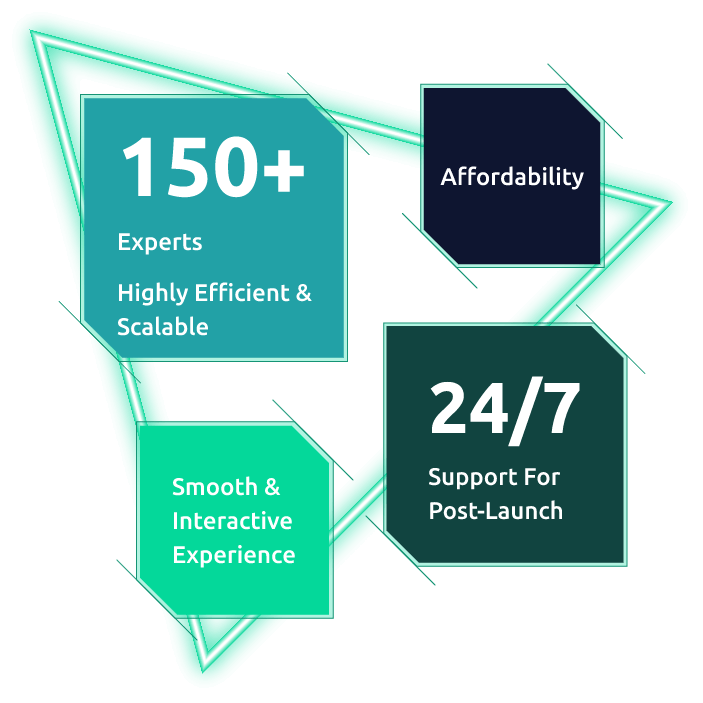 Project Confidentiality
We understand the value of your ideas and intellectual property. Our team upholds strict confidentiality measures to protect your project's details, ensuring your peace of mind throughout the development process.
Blockchain Expertise
We possess deep expertise in blockchain technology, making us the perfect partner to build and launch your NFT marketplace. Our in-depth knowledge of various blockchain platforms enables us to create innovative and secure solutions.
Qualified Experts
Our team is comprised of highly skilled and qualified NFT marketplace developers who have extensive experience in the blockchain and crypto space. We have a proven track record of delivering successful NFT projects for various industries across the Globe.
Agile Process
We follow an agile development approach, which means we adapt to your changing needs and preferences during the development journey. With frequent updates and open communication, you'll be involved at every step, ensuring that your marketplace aligns perfectly with your vision.