NFT Development Services Company
Experience the next frontier of digital assets with BloxBytes, a leading NFT development company. Create a custom NFT, distinguishable NFT platform, and thrive in the lucrative NFT market.
Our Top Notch NFT Development Services
Experience the true potential of NFTs with BloxBytes. Our NFT development services go beyond creation - we craft innovative
digital assets that redefine value and uniqueness in the virtual realm. Join us in pushing the boundaries of decentralized technology
and embracing the limitless possibilities of NFTs.
NFT Design
Standout from the crowd with NFTs design services. We create unique digital assets using protocols like ERC-721 and ERC1155. Experience the expertise of our NFT design team.
Custom NFT Development
Accelerate your custom NFT project with our end-to-end NFT development services. From collectibles to metaverse platforms, we build scalable NFT solutions on Ethereum, Binance, Polygon, and more.
NFT Token Development
Empower your business with NFT token development services. We create and deploy customized NFT tokens on leading blockchain platforms. Tap into the growing NFT market and unlock new opportunities for digital asset ownership and trading.
NFT Support & Maintenance
Our NFT developers will be with you every step of the way during the NFT development process. We prioritize open communication and collaboration, providing regular updates and addressing any issues or bugs promptly to ensure a smooth and successful development journey. Your satisfaction is our top priority.
NFT Use Cases
Transform your industry with our NFT Use Cases. Discover the diverse uses cases of NFTs across various industries. From art and gaming to real estate and finance, NFTs have revolutionized the way we perceive ownership and value. Explore the limitless possibilities of NFT use cases with BloxBytes.
Music
Experience the future of the music industry with NFTs, where musicians can connect directly with fans and monetize their work.
Fashion
Redefine luxury and ownership in the fashion industry with NFTs, offering exclusive digital collectibles and limited editions.
Art
Step into a new era of digital art with NFTs, enabling artists and collectors to showcase and trade unique creations.
Gaming
Level up your gaming experience with NFTs, owning rare in-game assets and exploring the dynamic world of blockchain gaming
Ticket Sales
Transform ticketing with NFTs, ensuring secure and verified tickets for events and experiences.
Supply chain
Enhance supply chain visibility with NFTs, ensuring trust, authenticity, and traceability of products.
Luxury Goods
Embrace the digital realm of luxury goods with NFTs, providing provenance and uniqueness for high-end items.
Metaverse
Immerse yourself in the metaverse, where NFTs enable virtual worlds, digital real estate, and personalized avatars.
Token Standards for NFT Development
Unlock the potential of token standards for your NFT development needs. From ERC-721 to ERC-1155 and beyond, we utilize the most suitable tokenstandards to bring your NFT vision to life. Benefit from the established standards, seamless integration, & enhanced compatibility across blockchain networks with our expert token standard selection.
01
ERC-721
Experience the power of ERC-721, the industry-standard token for unique NFTs. With this token standard, we create non-fungible tokens that represent exclusive digital assets, such as artwork, collectibles, and virtual real estate. Enjoy the benefits of true ownership, provenance tracking, and limited edition creations.
02
ERC-1155
Embrace the versatility of ERC-1155, a hybrid token standard that supports both fungible and non-fungible tokens. With this standard, we develop NFTs that can represent both individual items and collections, making them ideal for in-gaming assets and reward systems. Enjoy the benefits of cost-effective transactions, reduced gas fees, and streamlined development.
03
BEP-721
Expand your NFT ecosystem with BEP-721, the token standard on the Binance Smart Chain. With BEP-721, we create NFTs that are compatible with the Binance ecosystem, enabling seamless integration with Binance DEX, Binance Launchpad, and other Binance-powered platforms. Benefit from fast transaction speeds, low fees, and access to a vibrant community of Binance users.
Our NFT Development Process
At BloxBytes, we follow a meticulous and collaborative NFT development process to ensure the successful
creation and launch of your unique digital assets. Our process combines technical expertise, creative vision,
and industry best practices to deliver outstanding NFT development solutions tailored to your specific needs.
Requirement Gathering
We begin by understanding your project requirements, goals, and desired outcomes. Our team of NFT experts collaborates with you to gather all the necessary details and specifications for your NFT development project.
Ideation & Conceptualization
Based on the gathered requirements, our creative NFT experts collaborate with you to brainstorm ideas and concepts for your NFTs. We focus on bringing your vision to life and creating unique, captivating digital assets that stand out in the market..
Design & Artwork Creation
Our NFT designers and artists work closely with you to design visually stunning and engaging artwork for your NFTs. We ensure that the designs align with your brand identity, evoke emotions, and resonate with your target audience.
Testing and Quality Assurance
We conduct rigorous testing and quality assurance to verify the functionality, interoperability, and security of your NFTs. This includes thorough testing of smart contracts, metadata validation, and overall system performance to ensure a flawless user experience.
Token Minting and Metadata Integration
We mint the tokens and integrate relevant metadata. This includes attaching essential information such as titles, descriptions, media files, and other unique attributes that enhance the value and uniqueness of your NFTs.
NFT Development
Our experienced NFT developers leverage the selected token standard, such as ERC-721 or ERC-1155, to develop NFTs. We prioritize security, efficiency, and compliance to ensure seamless integration with blockchain networks.
Deployment and Launch
After successful testing, we deploy your NFTs on the chosen blockchain network. We assist you in launching your NFTs on various marketplaces and platforms to maximize exposure, attract potential buyers, and reach a wider audience.
Testing and Quality Assurance
Our commitment to your success doesn't end with the launch. e provide ongoing support and maintenance services to address any technical issues, implement updates, and ensure the long-term performance and scalability of your NFTs.
Transform your ideas into tangible digital assets with the help of our exceptional NFT developers at BloxBytes. We bring together creative minds and technical prowess to deliver NFT projects that elevate your brand and establish your ownership in the digital space. Trust us to bring your ideas to life and set you apart in the ever-evolving world of NFTs.
Hire NFT Developer

User interface

Logic

Application integration

React

Python

Solidity

Rust

Node.Js

.Net

C++

Java

Muitisignature

Event Manager

Connectors

Oracle

Trackers

Wallets

Application Server

Distributed Files stores

Smart Contracts

Distributed Databases

Digital assets

Digital Identity

Permissionless

Bitcoin UTXO

Link

Proof of stake

Gossip

Proof of work

Permissioned

Ethereal virtual Machine

Side chains

Byzantine fault Tolerant

Compute

Storage

Network

Virtualisation

Mining as a services
Why BloxBytes is a Preferred NFT Development Company?
Elevate the growth of your business with BloxBytes. Our NFT development services cater to a wide range of businesses, from early-stage startups to established corporations. With our expertise and tailored solutions, we empower businesses of all sizes to harness the benefits of NFT technology and scale their operations to new heights.
Experienced NFT Developers
Expertise in Different Blockchain Platform
Customized NFT Solutions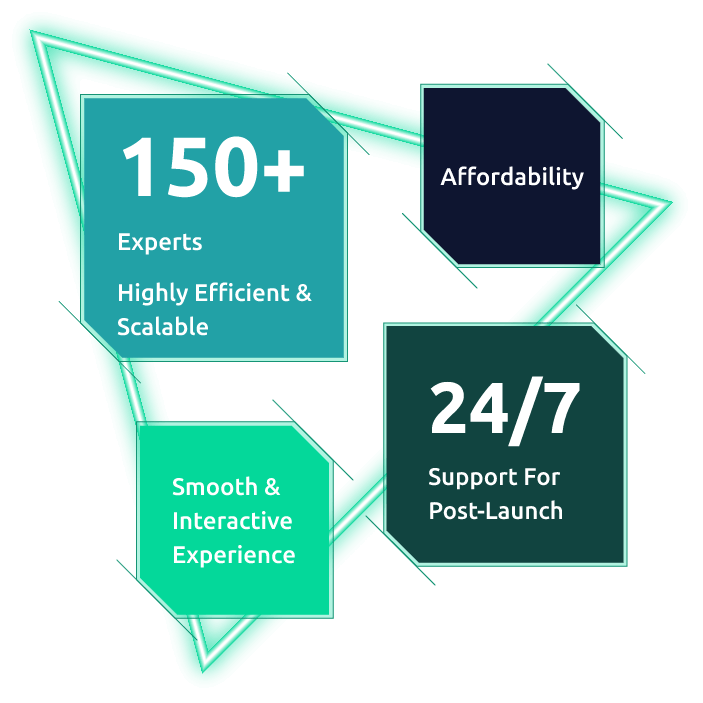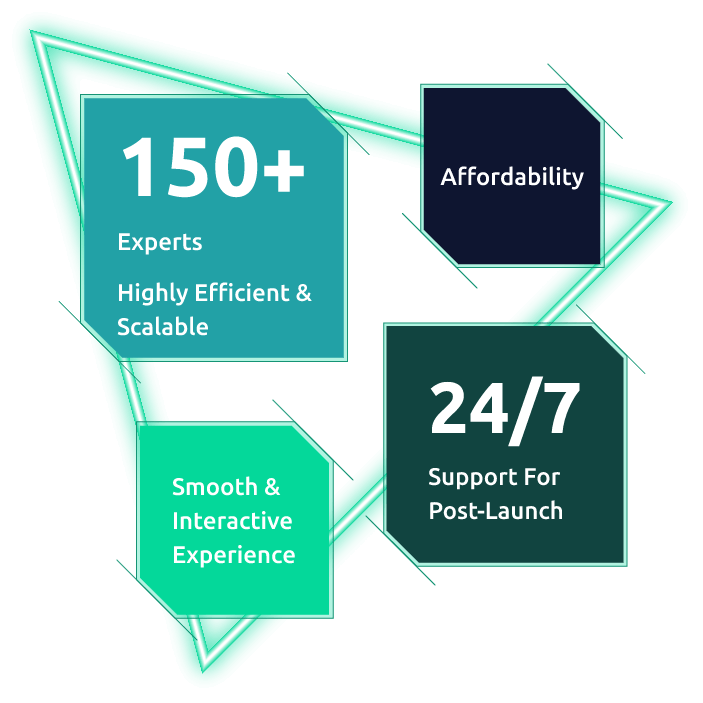 Agile Development Process
Decentralization & Transparency
Ongoing Support